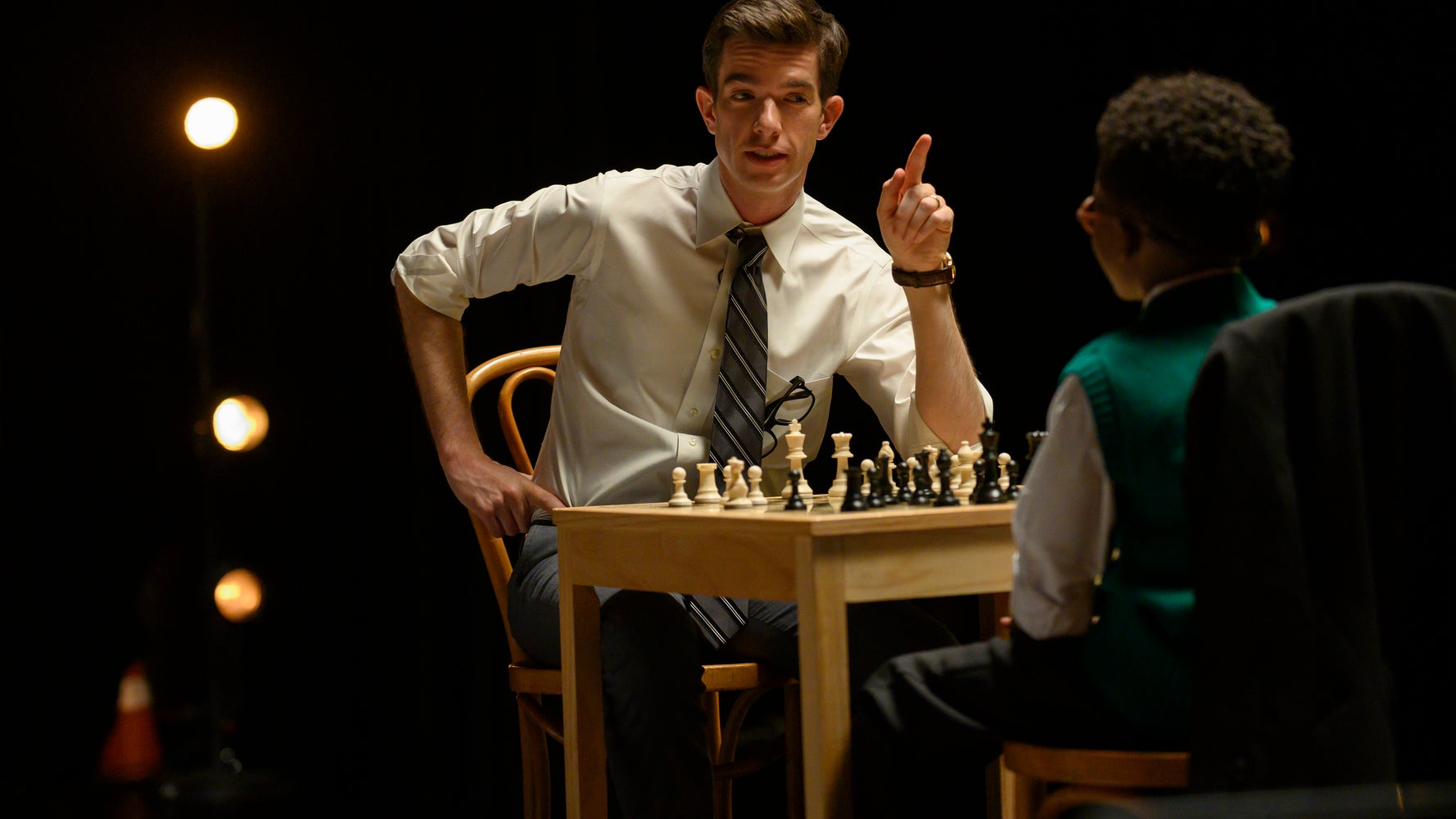 (Note: Normally these weekly Streamline articles focus on what's new in a given week. Due to the holiday and Netflix's lackluster offerings to start the year, I'm highlighting a comedy special that debuted in late December. This special is much better than anything else that's debuted on Netflix in the last couple weeks anyway, so I wanted to make sure you didn't miss it.)
What's up: Netflix's "John Mulaney & The Sack Lunch Bunch" is a comedy special that uses the format of a children's television show. While children make up the bulk of the cast and have more screen time than the adult actors, the writing is for adults.
The special consists of comedic songs loosely based on the myriad fears and absurd curiosity of children, as well as short segments in which Mulaney and guest stars interact with a precocious group of kids in sketches and scripted conversations. In between these segments, the show has retro-themed, colorful transitions and brief interviews with cast members about things they care about.
The special begins with a quote: "Do you know who tells the truth? Drunks and children." The quote is credited to Erika Jayne in Season 9, Episode 20 of "The Real Housewives of Beverly Hills." The show then cuts to one of those interview segments. A cute, bespectacled kid with curly hair talks to the camera about his fears, such as an asteroid hitting the Earth, a possible reference to the 1977 beginning of "Annie Hall."
After this interview, the camera cuts to the main set of "The Sack Lunch Bunch," where Mulaney sits with the cast of kids.
"Hi, I'm John Mulaney and this is the Sack Lunch Bunch," Mulaney says to the camera. A couple of jokes occur and then Mulaney explains the show: "What you're about to see is children's TV special, and I made it on purpose."
Mulaney stars, while guest stars include David Byrne, André De Shields, Jake Gyllenhaal, Richard Kind and Natasha Lyonne.
"John Mulaney & The Sack Lunch Bunch" runs 1 hour, 10 minutes.
Sum-up: I shouldn't have doubted Mulaney. As with many critics, I have been a fan of him for quite some time ― I even helped bring him to my college campus for a standup set way back when. But when the announcement that he was doing a children's special came out, I doubted he would make this work. The choice felt too on-the-nose contrarian and I didn't believe parodying a children's program would have much payoff.
But instead of straightforward adherence to the form or a parody, this special succeeds in being a combination of absurdist comedy with a charm and cuteness offensive.
Many comedians have experimented with grounding out-there, geeky humor in more traditional storytelling forms in recent years (e.g. shows like "Barry," "Atlanta," and "Maniac"). "The Sack Lunch Bunch" discovers that the writing can get hyper-absurdist as long as the show also includes some cute, smiling kids talking about their own inherently strange thoughts.
The special feels like an invention and a success in "lateral thinking" ― combining Mulaney's proven success in comedy with a tried-and-true entertainment format (the children's TV special). While I don't think comedians should go out and create their own children's specials now, "The Sack Lunch Bunch" should inspire more people to think about how other rusting storytelling vehicles could be used in an innovative way.
History: In Mulaney's 2015 comedy special "The Comeback Kid," the comedian had an extended bit about the frustration he felt as a kid when adults wouldn't listen to him. This part of the set particularly relates to themes in "The Sack Lunch Bunch":
I grew up before children were special. I did. Very early '80s, right before children became special. Like, I remember when milk carton kids became a thing. When they were like, "Hey, we should start looking for some of these guys. I don't think they're just blowing off steam." No one cared about my opinion when I was a little kid. No one cared what I thought. Sometimes, people would say, "What do you think you're doing?" But that just meant "Stop." They didn't actually wanna know my thought process.
1. Netflix released a list of the 10 most popular shows and movies that debuted on the service in the United States during 2019. The combined list included both Originals and content Netflix got from other companies, such as the movie "The Incredibles 2," which ranked fourth. The Jennifer Aniston and Adam Sandler movie "Murder Mystery" topped the list. "Stranger Things 3" came in second.
2. In a surprising announcement, HBO won the rights to adapt the 2019 movie "Parasite" with Bong Joon Ho and Adam McKay attached. Netflix lost a bidding war to HBO for this opportunity. "Parasite" the movie is likely to earn multiple Academy Award nominations, including for Best Picture.
And here are the shows and movies that joined Netflix recently:
"CAROLE & TUESDAY" (Part 2, Netflix Anime)
"Como caído del cielo" (Netflix Film)
"Crash Landing on You" (Netflix Original)
"John Mulaney & the Sack Lunch Bunch" (Netflix Original)
"Lost in Space" (Season 2, Netflix Original)
"TERRACE HOUSE: TOKYO 2019-2020" (Part 2, Netflix Original)
"The App" (Netflix Film)
"Le Bazar de la Charité" (Netflix Original)
"Fast & Furious Spy Racers" (Netflix Family)
"You" (Season 2, Netflix Original)
"The Gift" (Netflix Original)
"Kevin Hart: Don't F**k This Up" (Netflix Documentary)
"The Secret Life of Pets 2"
"Hot Gimmick: Girl Meets Boy" (Netflix Film)
"Alexa & Katie" (Season 3, Netflix Family)
"The Disastrous Life of Saiki K.: Reawakened" (Netflix Anime)
"The Degenerates" (Season 2, Netflix Original)
"Die Another Day"
"GoldenEye"
"Heartbreakers"
"The Neighbor" (Netflix Original)
"Red Dawn"
"Tomorrow Never Dies"
"The World Is Not Enough"
"Yanxi Palace: Princess Adventures" (Netflix Original)
"Ghost Stories" (Netflix Film)
"Messiah" (Netflix Original)
"Nisman: Death of a Prosecutor" (Netflix Documentary)
"Spinning Out" (Netflix Original)
"The Circle" (Netflix Original)
"21"
"A Cinderella Story"
"American Beauty"
"Catch Me If You Can"
"Charlie and the Chocolate Factory"
"Chasing Amy"
"Chitty Chitty Bang Bang"
"Chloe"
"City of God"
"Dinner for Schmucks"
"Dragonheart"
"Dragonheart 3: The Sorcerer"
"Dragonheart: A New Beginning"
"Drugs, Inc." Season 6
"Ferris Bueller's Day Off"
"Free Willy"
"Ghost Rider"
"Good Girls" (Season 2)
"Harold & Kumar Go to White Castle"
"Hitch"
"Inception"
"Instructions Not Included"
"Julie & Julia"
"Kate & Leopold"
"Kill Bill: Vol. 1"
"Kill Bill: Vol. 2"
"Kingpin"
"Kiss the Girls"
"Monster-in-Law"
"New York Minute"
"Pan's Labyrinth"
"Patriot Games"
"Saint Seiya" Season 4-5
"Seal Team Six: The Raid on Osama Bin Laden"
"Shrek Forever After"
"Strictly Ballroom"
"Teenage Mutant Ninja Turtles II: The Secret of the Ooze"
"Teenage Mutant Ninja Turtles: The Movie"
"The Lord of the Rings: The Return of the King"
"The Lord of the Rings: The Two Towers"
"The Naked Gun 2 1/2: The Smell of Fear"
"The Naked Gun: From the Files of Police Squad!"
"The Original Kings of Comedy"
"The Ring"
"The Talented Mr. Ripley"
"Tremors"
"True Grit"
"Up in the Air"
"What Lies Beneath"
"Wild Wild West"
"Willy Wonka & the Chocolate Factory"
"Wyatt Earp"
"Yes Man"
"Sex, Explained: Limited Series" (Netflix Documentary)
"Thieves of the Wood" (Netflix Original)
"Anne with an E: The Final Season" (Netflix Original)
"All the Freckles in the World" (Netflix Film)
"Go! Go! Cory Carson" (Netflix Family)
"Cheer" (Netflix Documentary)
"AJ and the Queen" (Netflix Original)
"The Evil Dead"
"Giri / Haji" (Netflix Original)
"Harvey Girls Forever!" (Season 4, Netflix Family)
"The Inbestigators" (Season 2, Netflix Family)
"Medical Police" (Netflix Original)
"Scissor Seven" (Netflix Anime)
"Until Dawn" (Netflix Original)
"Zumbo's Just Desserts" (Season 2, Netflix Original)