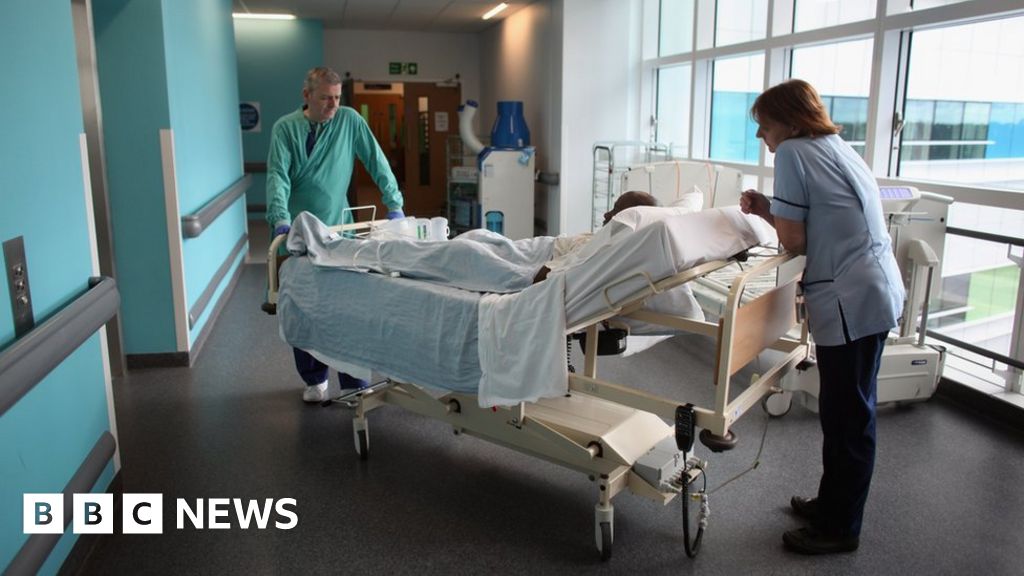 More patients than ever before are on hospital waiting lists in England and delays in A&E have hit their worst level since records began.
The target to start cancer treatment within 62 days of an urgent referral is also being missed.
The monthly statistics are the worst since targets were introduced, over a decade ago, prompting doctors to warn services were "imploding".
None of the three key hospital targets has been met for over three years.
The figures show:
4.42 million patients on the waiting list at the end of September
84.8% of them waiting under 18 weeks – below the 92% target
76.9% of cancer patients starting treatment within 62 days – below the 85% target
83.6% of accident-and-emergency patients admitted or transferred within four hours during October – below the 95% target
Scotland, Wales and Northern Ireland are also missing their targets, although health is devolved so NHS decisions are taken by the administrations in those parts of the UK.
Health leaders fear for NHS
NHS England said hospitals were under pressure, seeing "more older and sicker patients".
A spokesman said, with winter coming, hospitals would be opening extra beds.
But he urged the public to play their part by getting the flu jab and using the 111 phone line and NHS online services "as first port of call for non-emergencies".
Dr Nick Scriven, of the Society of Acute Medicine, said: "These figures are truly worrying as we haven't even reached the 'traditional' winter period yet."
He said urgent action was needed, warning the system was "imploding".
"We have heard so many announcements over the last few weeks of half-baked projects that require either thrice promised money or are totally uncosted for the real world," he said.
But Chris Hopson, chief executive of NHS Providers, which represents health managers, tweeted while there was "huge pressure" it was wrong to say the system was imploding, calling for a more careful use of language.
However, he admitted he was worried about the degree of stress on the system at this point before the full onset of winter.
'I was left in excruciating pain'
Frances Reid, 55, is one of many patients to have faced a long wait – for a hip replacement, in "excruciating" pain.
Ms Reid, from South Cambridgeshire, was referred for surgery in January 2018, after struggling for the previous two years with hip pain.
She should have been seen in April 2018, but waited until July for her surgery.
The NHS ended up paying for her to be treated at a private unit because of the wait.
"The final weeks were really difficult," she says.
"I was walking up six, seven times a night and had to use walking sticks to get around.
"Daily tasks like shopping became very difficult."
Reaction from the campaign trail
These are the last set of monthly figures before the election – and both Labour and the Liberal Democrats have said they are a damning indictment of Tory policies.
Health Secretary Matt Hancock – who plans to increase the budget by 3.4% a year above inflation until 2023 – said a Labour government would lead to chaos that would "cripple" the health service.
Labour shadow health secretary Jonathan Ashworth – who plans to increase the budget by 3.9% a year – said under a Tory government, the NHS was heading for a "winter of abject misery".
Liberal Democrat health spokeswoman Luciana Berger – who is proposing a penny on income tax to invest more in mental health, social care and public health – said the Tories had a "shameful" record.
---
Have you waited more than four hours in A&E? Or have you waited more than 18 weeks for hospital treatment? Tell us your experience by emailing haveyoursay@bbc.co.uk.
Please include a contact number if you are willing to speak to a BBC journalist. You can also contact us in the following ways: