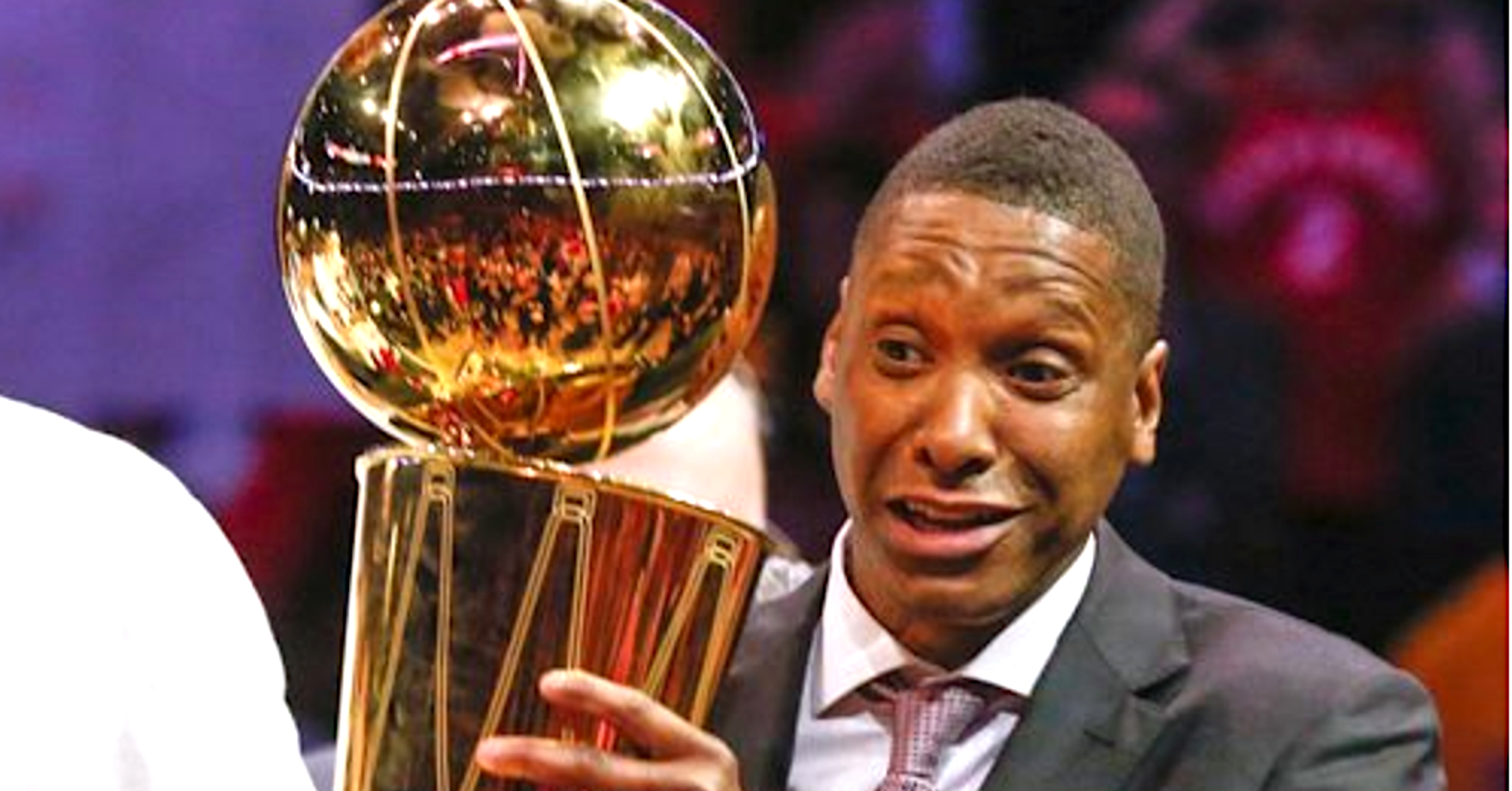 UPDATE: 6:42 p.m. — A Golden State Warriors fan who witnessed Thursday night's quarrel disputed the Alameda County Sheriff's Office's version of events.
Greg Wiener, 61, told The Associated Press that he didn't see Masai Ujiri, the Toronto Raptors president, hit a sheriff's deputy in the face, as the sheriff's office claimed.
Wiener also disputed the sheriff's claim that Ujiri ignored the deputy after he was asked for his credential. Wiener said the sheriff didn't ask for credentials before he pushed Ujiri in the chest, according to the AP.
Other witnesses challenged the sheriff's claim that Ujiri didn't have credentials on him during the confrontation.
Video filmed from behind Ujiri during the incident shows that the executive was, in fact, holding his credentials in his hand when the sheriff pushed him.
Toronto Raptors president Masai Ujiri pushed and struck a sheriff's deputy while attempting to reach the court to celebrate his team's NBA championship on Thursday in Oakland, California, according to the Alameda County Sheriff's Office.
Ujiri carried no valid credential for the venue, and a strict security policy was in place, sheriff's Sgt. Ray Kelly said. Ujiri tried to push his way past the deputy, the deputy shoved back and Ujiri allegedly responded with another shove that struck the officer in the face, Kelly said.
The sheriff's office is investigating a possible misdemeanor charge of battery of an officer, and the district attorney is reviewing the matter, Kelly said. Ujiri was not arrested and was permitted to return to Canada if he chooses.
"We tried to take the high road on this," said Kelly, who called Ujiri's actions "inappropriate." "We didn't want to arrest him, especially in the middle of them getting an NBA championship trophy."
A video obtained by NBC Bay Area showed the apparent aftermath of the clash in which another man tries to restrain an officer or security guard from continuing the encounter. Ujiri is eventually escorted onto the court.
"The incident is being looked at, and we are cooperating with authorities," a Raptors spokesperson told HuffPost. "We look forward to resolving the situation."
An NBA spokesman said the league was "in contact with the Raptors and local authorities and in the process of gathering more information."
REAL LIFE. REAL NEWS. REAL VOICES.
Help us tell more of the stories that matter from voices that too often remain unheard.